Monica's Arts Commission
---
---
Commission Info
If you're interested in a unique gift for a friend, need art done for your stories, just want fan art to a character of yours drawn by me, I do custom character commissions in a variety of styles.
---
Headshots/Portraits
• Drawn from the headshot/portraits only
• Simple background only. - Free
• If you want ask me more add props - are an extra cost and can be discussed throughout dm!
• Can be different sizes/canvas like square or rectangle.
• Complex background - if you ask me and can be discussed about this.
---
My style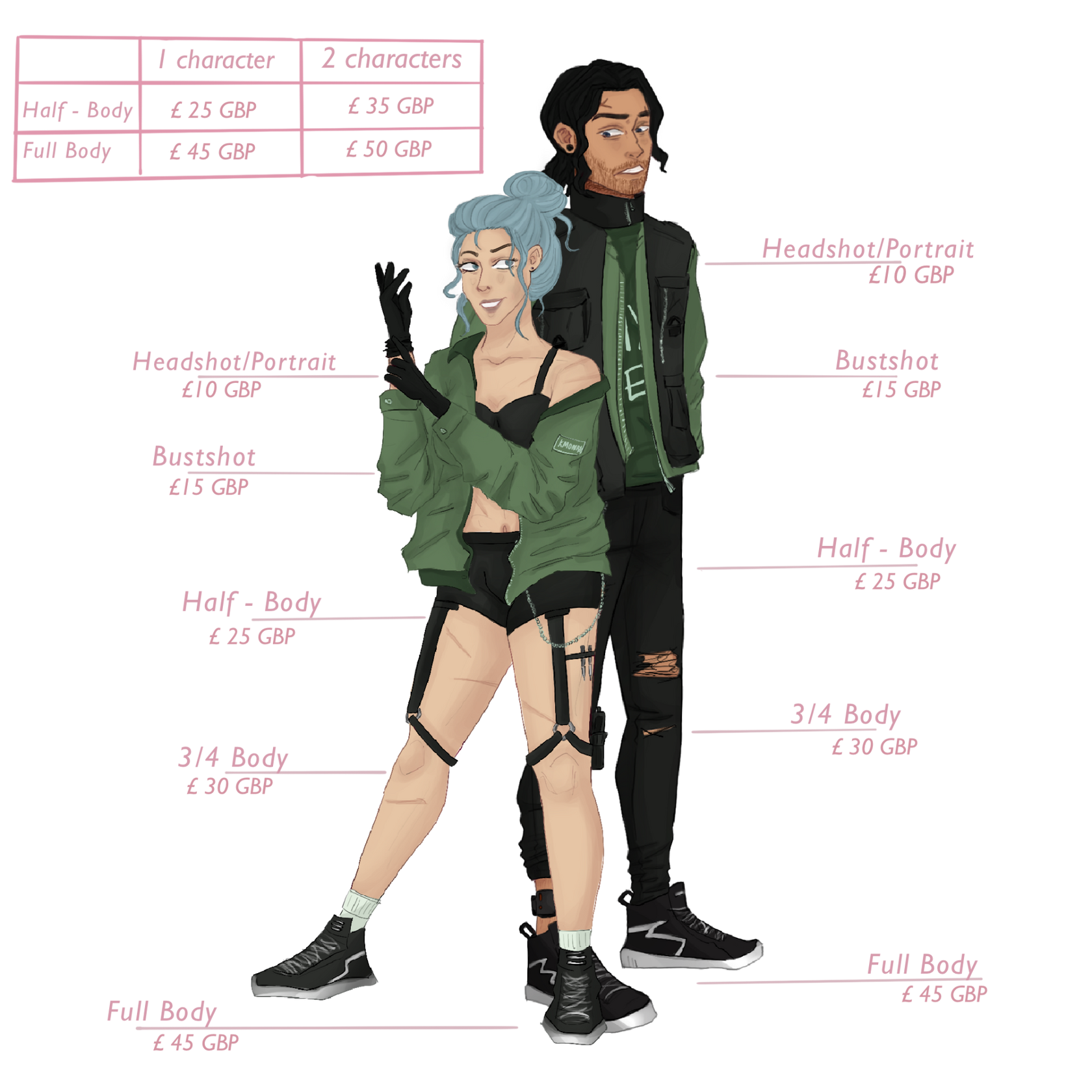 This is my own style, which I've developed over years of drawing characters and figuring out how I like to draw faces and bodies! You can see many examples of this style on my Instagram/Tumblr page and in my gallery on website/site.• Fully coloured, lined and shaded
• May charge extra for very detailed clothing/many props
•Outfits if you have any specific in mind or tell/describe to me what you want them to wear. [I prefer pictures]
• References or a description on how you want the pose. The more specific you are with your pose and what you want the better it is for the end result.
• Please feel free to give me any and all reference images, they can be from pinterest or other free sites.
• You can provide reference fro anything from clothing, poses, colours etc.
• A detailed description of what is it you're looking fro me to draw. THE MORE SPECIFIC, THE BETTER!• Price may vary if you select a complex background.• Additional / etc : £1 GBP - £ 40 GBP
Props - Detailed/Complicated [depending on complexity]
---
Backgrounds
• The simple backgrounds are the default - you can choose any colour, or a couple of colours, and I will create a simplified, usually plain background with them. You can also leave the colours up to me, and I can find something that works with your drawing!• The complex backgrounds are the complicated - If you can reference of poses, backgrounds, pictures etc. - If you have any problems, questions, concerns or enquires. DM or email me!• If your background is extremely detailed (lots of fully rendered furniture, etc) then I may charge slightly extra.
Specific backgrounds, environments or other elements etc, are an extra cost and can be discussed throughout dm!
---
Terms and Conditions
By commissioning me, you agree to all of the following terms of service:• Be as specific as possible and provide reference picture to avoid multiple revisions.• NO REFUND or cancellations after payment is received.• Payment will happen with you paying half the price first and me doing the sketch [draft] and showing you.• Changes on when I'm finished with the price will cost extra [pounds - check the price] - if you are happy we proceed and you pay me the rest and I finishing the painting.
• You can also just pay me the whole sum right way! (progress is still the same with showing you - sketch first and approving etc)• All aspects of the commission are customisable! (expression, background, colours, clothing, pose, speech bubbles or text, etc.)• Big changes, such as changing facial expression, hairstyle, clothing, shading, and pose, can not be made after the final drawing has been sent. Colours can still be adjusted after the final image is sent, as this is quick and easy to do.• If you plan to use the image for anything other than personal use, please discuss it with me beforehand!• Finished commission will be emailed after the remains 50% paid.
• Finished artwork will be sent via email.• Commission can take 3-4 weeks or more to complete, depending on complexity and my workload. [A commission can take me longest up 3-4 weeks wish to finish. Might be even longer depending on the other commissions I work on.]• If the due date fro a commission is critical, prices may increase to be completed as a priority. This means being, put infant of other commissions.• I have the right to turn down any commissions I do not feel comfortable with.• The finished artwork is only personal use, not for commercial purposes.• Due I starting working on the piece, it is no longer refundable.• Payment Method: Payment via bank transfer or PayPal. Prices are in GBP [UK Pounds] as referenced. You'll need to convert to your currency. [The bank transfer is ideal, in my opinion.]
When paying via PayPal please include additional cost of PayPal Fees i.e. PayPal Merchant Account Fees, International Fees, Standard Fees etc.• Tag me on social media if you choose to share your drawing!
---
| Will Draw | Won't Draw |
| --- | --- |
| - Any Gender | - Furries |
| - Original Characters [OCs] | - NSFW |
| - Any Body Type | - Hateful/ Offensive Art |
| - Fan Art | - Mecha |
| - Real People | |
| - Gore | |
©kmonakartist. All rights reserved.